Géométrie algébrique, Théorie des nombres et Applications
GTA 2021
About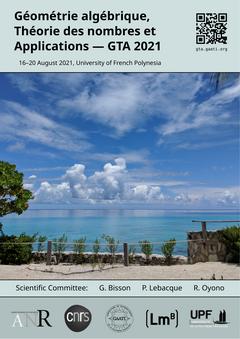 The GTA 2021 conference will bring together world class researchers in mathematics and computer science. Its main objectives are to discuss recent advances in the fields of algebraic geometry, number theory and their applications, as well as to foster international collaborations on connected topics.
While contributions from all related areas of mathematics and computer science are welcome, particular emphasis will be placed on research interests of our late colleague Alexey Zykin, namely: global fields and abelian varieties; zeta-functions and L-functions; algebraic geometry over finite fields; their applications to cryptography, error-correcting codes, sphere packing, etc.
The conference will take place on 16–20 August 2021 at the University of French Polynesia in Tahiti, French Polynesia.
Historical Note: Originally known as "GTA 2020" and scheduled for 21–25 September 2020, this event has been postponed to its current dates because of the coronavirus pandemic and subsequent restrictions on international travel.
The organizing committee consists of:
Feel free to contact them for any information not covered in the following pages:
Related Events